Description
RHYTHMS OF THE SOUTH
 11 DAYS  1 COUNTRY  4 CITIES
From Jazz to Blues, to Rock & Roll and Country this is a journey that is steeped in musical history and full of Southern charm.
"Another great vacation with Trafalgar"
Carol
RHYTHMS OF THE SOUTH
YOUR ITINERARY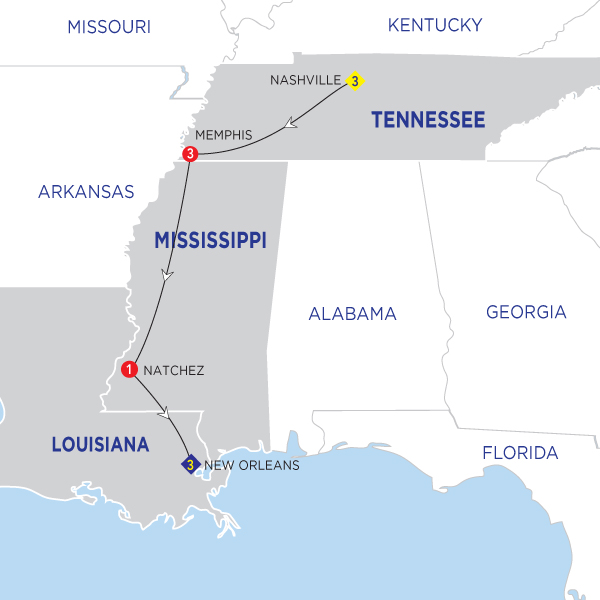 1.ARRIVE NASHVILLE (3 NIGHTS)
Welcome to Nashville, "Music City, U.S.A." Get settled in at your hotel before meeting your Travel Director this afternoon.
HOTEL
Quality Inn Nashville Downtown-Stadium
2.NASHVILLE SIGHTSEEING AND FREE TIME
This morning explore Nashville with an orientation tour, passing well-known sites including historic Riverfront Park, the Tennessee State Capitol and Centennial State Park, home to the world's only full-scale reproduction of the ancient Parthenon in Athens. Explore the vibrant heart of Nashville's entertainment industry at Music Row, home to hundreds of businesses dedicated to music. Visit Studio B where the Everly Brothers and Dolly Parton, among others, recorded some of their albums. Next is the Country Music Hall of Fame and Museum to view memorabilia from stars such as Hank Williams, Loretta Lynn and Garth Brooks. The afternoon is free to pursue your own interests. This evening, attend a live recording session at the Grand Ole Opry, home to America's longest-running live radio program.
MEAL(S)
Continental Breakfast
3.NASHVILLE FREE TIME
A full day at leisure in Nashville to do as you please. Visit the Ryman Auditorium, the live performance venue, best known as the home of the Grand Ole Opry from 1943 to 1974 or visit the Hermitage, built as the home of the U.S.'s seventh President, Andrew Jackson. Another option is a visit with an expert costumed guide to Belle Meade Plantation, a magnificent plantation with an 1853 Greek Revival mansion which is now a historic site. Of course, you may prefer to explore on your own the best of Nashville Honky Tonk scene.
MEAL(S)
Continental Breakfast
4.NASHVILLE – MEMPHIS (3 NIGHTS)
This morning, drive to Memphis, a city steeped in music history from BB King to Elvis. On arrival in Memphis, enjoy an orientation tour of the city. See iconic sites like the massive Memphis Pyramid and the luxurious Peabody Hotel. Check out the mighty Mississippi as it winds through town and stop in the Victoria Village neighbourhood to see fabulous houses from an elegant era. The tour takes a somber tone as you drive past the non-descript but historically significant Lorraine Motel, where you'll hear about the tragic assassination of Martin Luther King, Jr. This evening is at leisure to sample the music scene on Memphis' famous Beale Street and experience some authentic Memphis-style BBQ or enjoy dinner at the Blues City Cafe.
MEAL(S)
Continental Breakfast
5.MEMPHIS SIGHTSEEING AND FREE TIME
Start the day with an Iconic Breakfast of Southern fare served family-style at one of the oldest cafés in Memphis. Next, visit Sun Studios where Elvis was discovered, followed by a pilgrimage to the museum dedicated to the late Elvis Presley, Graceland. The mansion was purchased by the "King" back in 1957 for $100,000 when he was just 22 years old. Back in town, perhaps visit the famous Gibson Guitar Factory, the Rock 'n' Soul Museum, the National Civil War Museum at the Lorraine Motel or the Stax Museum of American Soul Museum. Your Travel Director will be on hand to help you plan your time in Memphis.
6.MEMPHIS FREE TIME
As an option today, travel from Memphis, Tennessee to Tupelo, Mississippi to see the birthplace of Elvis Presley. See the modest two-room home, built by Elvis' father Vernon Presley, where the King was born and raised. You will also visit the Elvis Presley Birthplace, Museum and Chapel. Completely renovated in 2006, the state-of-the-art museum displays new exhibits contains Tupelo artifacts, large photo-murals and graphics and audiovisual presentations that focus on Elvis, his childhood and his first music. Back in Memphis, you have the rest of the day at leisure to pursue your own interests.
7.MEMPHIS – NATCHEZ
Set out for Natchez on the Mississippi River and drive along a portion of the famous Natchez Trace Parkway, a 444-mile (714 kilometres) drive through exceptional scenery and 10,000 years of North American history. Used by American Indians, "Kaintucks," settlers and future presidents, you'll learn why the Old Trace played an important role in American history. As you arrive in Natchez, you will see some of Natchez's many beautiful antebellum homes. Natchez is fortunate to have the great number of historic structures that remained untouched during the plight of the South. There are 1,000 plus structures listed on the National Register of Historic Places and about a dozen of those are actually designated as National Historic Landmarks.
HOTEL
Hampton Inn and Suites Natchez
8.NATCHEZ – NEW ORLEANS (3 NIGHTS)
Head south to New Orleans, travelling over the 126,122ft. long Lake Pontchartain Causeway, the world's longest overwater bridge. The bridge is so long that for about 8 of its 24 miles, you cannot see land in any direction. On arrival in New Orleans, soak up the "Big Easy" as you are joined by a Local Specialist for a city tour. Highlights include the French Market, Jackson Square and St. Louis Cathedral, the Garden District and an above-ground cemetery. Since the city is built on a swamp, the deceased have to be buried above ground here in elaborate stone crypts and mausoleums. This evening is free to pursue your own interests.
MEAL(S)
Continental Breakfast
HOTEL
Wyndham New Orleans-French Quarter
9.NEW ORLEANS SIGHTSEEING AND FREE TIME
This morning, perhaps join an optional guided walking tour of the French Quarter with a jazz brunch at the Court of Two Sisters, while this afternoon, you might want to head out to the swamps for a guided tour to see alligators in the Cajun backwaters of Louisiana. This evening, perhaps take an optional jazz cruise along the Mississippi or explore the city on your own.
10.NEW ORLEANS FREE TIME
Today, you have the entire day to explore this vibrant city on your own-visit a jazz club or enjoy beignets with coffee at Café du Monde. Take an optional excursion to Oak Alley, wander through the excellent National WWII Museum or take a cooking class. The choice is entirely yours and your Travel Director will be happy to plan your day.
11.DEPART NEW ORLEANS
Bid farewell to New Orleans and your newfound friends or extend your stay at the Wyndham in New Orleans.