Description
PERU EXPLORER
 7 DAYS  1 COUNTRY  3 CITIES
The ancient allure of Machu Picchu and Sacred Valley meet the buzz and bustle of Lima and Cusco.
PERU EXPLORER
YOUR ITINERARY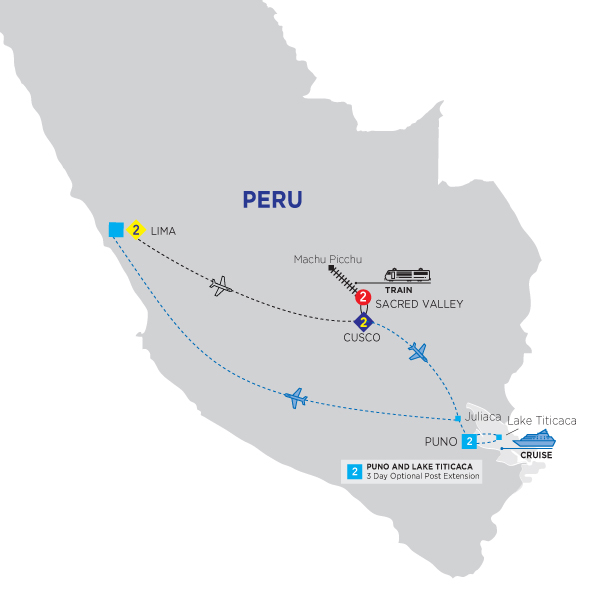 1.ARRIVE LIMA (2 NIGHTS)
Welcome to Lima, the "City of the Kings." Get settled in at your hotel before meeting your Travel Director this afternoon.
2.LIMA SIGHTSEEING AND FREE TIME
Today, discover the famous Plaza Mayor and Cathedral. See the Government Palace, Archbishop's Palace and City Hall. Visit the San Francisco Monastery, an interesting museum featuring mysterious catacombs. Your afternoon is free. This evening, join your Travel Director and fellow travellers for a lively dinner at a local restaurant.
MEAL(S)
Full Breakfast
Dinner
OPTIONAL EXPERIENCES
La Dama Juana Restaurant And Folklore Show
La Dama Juana Restaurant combines typical Peruvian food with traditional folkloric dancing. The food is served buffet-style in clay pots. As you dine, watch the energetic dancers perform colonial and Inca ceremonial dances. The costumes are colorful and the music is lively. Gratuity included. Total duration is approximately 3 hours.
Pachacamac
Pachacamac is located around 30 km (19 mi) south of Lima and was constructed around 700 A.D. It was the most important ceremonial center on the Peruvian Coast during the pre-Inca and Inca period. The early inhabitants came here to worship and give offerings to their God "Pachacamac", who was believed to be the creator of the world and all its creatures. The site includes several clay buildings including palaces, plazas and temples. This optional experience can only be offered if you arrive the morning of Day 1 of your guided vacation or if you have purchased extra nights. Total duration approximately 3 hours. Not available on Mondays. Gratuity included.
Magic Circuit Of The Water
The Magic Circuit of the Water is the world's largest fountain complex of beautiful interactive fountains featuring swaying water, colored lights and lasers dancing with the music. The Magic Fountain forces water to a height of more than 250 feet (80 meters). This optional experience is available Wednesday to Sunday. Total duration is approximately 2.5 hours
3.LIMA – CUSCO – SACRED VALLEY (2 NIGHTS)
Take a morning flight to Cusco where you visit the Sacred Valley. Stop at Awanakancha, a living museum where you can see llamas, alpacas, vicuñas and guanucos. Learn about the traditional weaving techniques of the locals before strolling through the famous Pisac Market. After lunch, settle into your hotel. This evening, join your new friends for dinner at a local restaurant.
MEAL(S)
Full Breakfast
Lunch
Dinner
4.MACHU PICCHU EXCURSION
This morning, transfer to Ollantaytambo to board your train to Aguas Calientes, the village at the feet of Machu Picchu. As you make your way through Sacred Valley, the train passes little villages and rugged mountains. Transfer to the shuttle system that completes your journey to the marvellous citadel of Machu Picchu, one of the New Seven Wonders of the World. Return to Sacred Valley and share your impressions of Machu Picchu with friends over dinner.
MEAL(S)
Full Breakfast
Dinner
5.SACRED VALLEY – CUSCO (2 NIGHTS)
This morning, visit Pablo Seminario's workshop. See beautiful pottery incorporating the techniques and styles of the ancient cultures of Peru. On the way to Cusco, visit a local home in Ollantaytambo, sampling the millenary beverage of the Incas at a chicheria and view the fortress of Sacsayhuaman. Once at your hotel, the evening is free.
6.CUSCO SIGHTSEEING AND FREE TIME
Today, join your Travel Director for a city tour of Cusco, visiting important landmarks of both the Incan and the Colonial times. View Coricancha, also known as the "Temple of the Sun." Discover the Cathedral, considered the best repository of colonial art from Escuela Cuzquena, Cusco's School of Art. Walk through the Inca Street of Loreto, with its remarkable Incan wall construction. Visit the San Pedro market, known for its local products. Later this evening, join your Travel Director and travelling companions for dinner at a local restaurant featuring a folkloric show of song and dance.
MEAL(S)
Full Breakfast
Dinner
OPTIONAL EXPERIENCES
Moray And Moras
Visit Moray, the Inca agricultural greenhouse or laboratory that consists of four platforms that seem to disappear into a crater. At a depth of 500 feet (150 meters), the overlapping concentric circular stone rings widen as they rise. It was an experimental location the Incas used to study the adaptation of plants with agriculture. Next is the village of Maras, renowned for its ancient salt mines and wells. The salt has been used for economic purposes since the time of the Inca. You will meet the villagers who explain ancient salt mining techniques and have a chance to participate. Total duration is approximately 4 hours. Gratuity included. (Minimum 5 Guests)
Piquillacta Ruins And Andahuaylillas Church
Visit 17th century Piquillacta, a pre-Inca citadel built by the Wari people, featuring an elusive history and bizarre architecture. Afterward, head to Andahuaylillas to see San Pedro Church, a perfect example of Peru's colonial architecture and often referred to as the Andean Sistine Chapel. Total duration is approximately 4 hours. Gratuity included. (Minimum 4 Guests)
Visit and Workshop at Choco Museum
Visit the Choco Museum where you will learn the Peruvian chocolate making process from the cacao bean to the chocolate bar. You will participate in making the chocolate and experience the true feeling of a chocolate maker. Space is limited. Total duration approximately 2.5 to 3 hours. Gratuity included. (Minimum 4 Guests)
7.DEPART CUSCO
This morning, your Peruvian adventure comes to an end or extend your holiday in Puno and Lake Titicaca.
MEAL(S)
Full Breakfast
WHAT'S INCLUDED
SIGHTSEEING HIGHLIGHTS
CUSCO
Discover Sacsayuaman, Coricancha and the famous San Pedro market before enjoying a magical evening featuring an entertaining folklore show

LIMA
Explore the "City of the Kings" and see the Cathedral, Government Palace, Archbishop's Palace, City Hall and visit San Francisco Monastery, famous for its catacombs

MACHU PICCHU
Journey to the marvellous citadel of Machu Picchu, one of the New Seven Wonders of the World

SACRED VALLEY
Visit the famous Pisac Market and stop at the Awanakancha Living Museum where you may see llamas, alpacas and vicuñas