Description
AMERICA – FROM BROADWAY TO HOLLYWOOD
 24 DAYS  2 COUNTRIES  13 CITIES
A cross-country exploration of America, from Los Angeles to New York City, with every stop on our most comprehensive U.S. journey.
AMERICA – FROM BROADWAY TO HOLLYWOOD
YOUR ITINERARY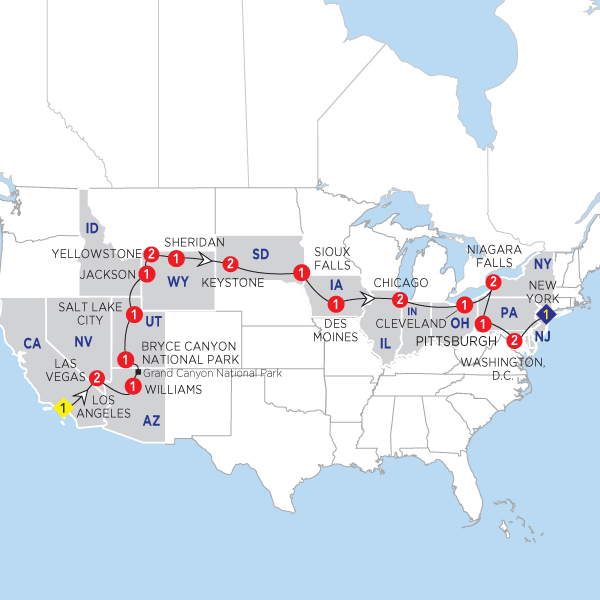 1.ARRIVE NEW YORK
Welcome to New York City, at 2:00 p.m. meet your Travel Director in your hotel lobby for a sightseeing tour with a Local Specialist. The evening is yours to explore the Big Apple.
The Paul, an Ascend Hotel Collection Member
2.NEW YORK – PHILADELPHIA – WASHINGTON, D.C. (2 NIGHTS)
Bid farewell to New York and stop in Philadelphia, the City of Brother Love, on the way to Washington D.C., the nation's Capital. The evening is yours to enjoy at leisure.
Wyndham Garden Washington D.C. North
3.WASHINGTON, D.C. SIGHTSEEING AND FREE TIME
Join a city tour of Washington, D.C. and discover amazing memorials and monuments in the nation's capital city. Enjoy the rest of the day at leisure.
4.WASHINGTON, D.C. – GETTYSBURG – PITTSBURGH
On the way to Pittsburgh, visit the Gettysburg Battlefield and learn about the pivotal turning point in the Civil War with a Local Specialist. Enjoy your evening at leisure.
Cambria Hotel and Suites, Pittsburgh Downtown
5.PITTSBURGH – NIAGARA FALLS, CANADA (2 NIGHTS)
This morning, cross the border to head to incredible Niagara Falls.
Best Western Plus Cairn Croft
6.NIAGARA FALLS SIGHTSEEING
Embark on a boat cruise to the base of the awe-inspiring Horseshoe Falls and feel the power of this incredible natural wonder of the world. Perhaps take an optional to Niagara-on-the-Lake for wine tasting.
7.NIAGARA FALLS, CANADA – CLEVELAND
Travel to Cleveland, birthplace of legendary actor and comedian Bob Hope.
Hilton Garden Inn Cleveland Downtown
8.CLEVELAND – CHICAGO
Say goodbye to Cleveland and head to Chicago, the Windy City. Tonight is yours to explore this Metropolitan City.
Courtyard by Marriott River North
9.CHICAGO FREE TIME
Enjoy an Iconic Breakfast at Lou Mitchell's where everyone from US Presidents, athletes and actors have stopped to enjoy a meal. The rest of the day is yours to discover Chicago at your leisure. Browse the shops along the Magnificent Mile, visit the Field Museum or maybe take an optional visit to the 360 Chicago Observation deck for unobstructed 360° views of the city.
10.CHICAGO – DES MOINES
Travel to Des Moines, the State Capital of Iowa. On the way you will enjoy stops at the John Deere Pavilion and World Headquarters and the Herbert Hoover Presidential Museum.
Holiday Inn Express Downtown
11.DES MOINES – SIOUX FALLS
Today, visit Iowa's beautiful State Capitol Building – famous for its elaborate architecture. Later make a stop in Winterset, Iowa – home to the famed Bridges of Madison County as featured in the hit blockbuster film. Then, take some time to explore at the Lewis and Clark Interpretive Center.
Best Western Plus Ramkota
12.SIOUX FALLS – KEYSTONE (2 NIGHTS)
This morning, see the waterfalls of Big Sioux River Falls Park. Then travel through Badlands National Park, stopping at two of America's most famous roadside attractions: Wall Drug and Corn Palace.
Mt. Rushmore's White House Resort
13.BLACK HILLS EXCURSION
Today, discover the massive Crazy Horse Memorial of the famed Lakota chief. Then, travel to the famous sculpture carved into the granite of Mount Rushmore, memorialising four of the U.S Presidents: George Washington, Thomas Jefferson, Theodore Roosevelt and Abraham Lincoln. For a truly memorable experience, consider an optional lighting ceremony of Mount Rushmore tonight.
14.RAPID CITY – SHERIDAN
Head deeper into the Black Hills of South Dakota to explore the boomtown of Deadwood before travelling on to Wyoming to see Devils Tower. Watch the rolling hills of pass your window as you journey on to Sheridan.
15.SHERIDAN – CODY – YELLOWSTONE (2 NIGHTS)
Depart Sheridan for Cody where you have an opportunity to visit the Buffalo Bill Center of the West with the world's largest collection of Western artefacts. This evening arrive in Yellowstone National Park.
16.YELLOWSTONE SIGHTSEEING
Discover all of the incredible features of Yellowstone with a full day of sightseeing. See the geysers, including famous Old Faithful, the thundering Yellowstone Falls, the Grand Canyon of the Yellowstone and countless brilliantly coloured geothermal springs.
17.YELLOWSTONE – JACKSON
Today it's off to Jackson, home to the famous antler arches in the historic town square. Spend the evening at leisure or enjoy an optional Chuckwagon dinner.
18.JACKSON – SALT LAKE CITY
Leave the quaint pioneer town and travel south to Utah's capital. See the famed Temple Square, headquarters to the Mormon Church and home to the renowned Mormon Tabernacle Choir. This evening, perhaps take an optional visit to Temple Square and a garden tour followed by dinner at the Roof Restaurant.
19.SALT LAKE CITY – BRYCE CANYON
Today it is onward to Bryce Canyon, home to the world's largest concentration of hoodoos – tall, limestone spires that rise majestically from the desert floor.
Best Western Plus Ruby's Inn
20.BRYCE CANYON – ZION NATIONAL PARK – WILLIAMS
Depart Bryce Canyon for the towering cliffs of Zion National Park before heading to your hotel in Williams, Arizona.
21.WILLIAMS – GRAND CANYON – LAS VEGAS (2 NIGHTS)
Upon leaving Williams stop at the Grand Canyon, one of the Seven Natural Wonders of the World. Explore the Grand Canyon South Rim. Later, have the opportunity to take an optional helicopter flight for unique views above the Grand Canyon. This evening you will arrive in Las Vegas, with the evening at leisure.
Gold Coast Hotel and Casino
22.LAS VEGAS FREE TIME
A full free day to take in all that Las Vegas has to offer. Perhaps spend your morning with an optional excursion to the Hoover Dam, or this evening watch the only show in Vegas, about Vegas – "Vegas, The Show".
23.LAS VEGAS – LOS ANGELES
This morning depart Las Vegas and head to Los Angeles. The evening is yours to explore at leisure.
Hyatt Regency at Los Angeles Airport
24.DEPART LOS ANGELES
Before you bid farewell to your newfound friends, join your Travel Director for a sightseeing tour of Los Angeles.
WHAT'S INCLUDED
SIGHTSEEING HIGHLIGHTS
BADLANDS NATIONAL PARK
Visit the rugged beauty of this National Park containing one of the world's richest fossil beds

BRYCE CANYON
See the stunning red hoodoos

CHICAGO
Orientation tour and Iconic Breakfast at Lou Mitchell's where Presidents Obama and Bush have dined

DES MOINES
Visit Iowa's State Capitol building, the Herbert Hoover Presidential Museum and a stop at John Deere Pavilion and World Headquarters

GETTYSBURG
Visit the Gettysburg Battlefield with a Local Specialist

GRAND CANYON
Marvel at one of the Seven Natural Wonders of the World

JACKSON
Orientation of the historic town square and famed antler arches

KEYSTONE
See the massive Crazy Horse Memorial and the majestic Mount Rushmore

LOS ANGELES
Orientation tour including Hollywood

NEW YORK
Sightseeing with a Local Specialist

NIAGARA FALLS
Embark on a cruise to the base of Horseshoe Falls

SIOUX FALLS
See the waterfalls of Big Sioux River Falls Park

WASHINGTON, D.C.
See many of the iconic buildings, monuments and memorials of D.C.

YELLOWSTONE NATIONAL PARK
Walk among the geysers, mudpots and hot springs

ZION NATIONAL PARK
Marvel at gorgeous canyon country