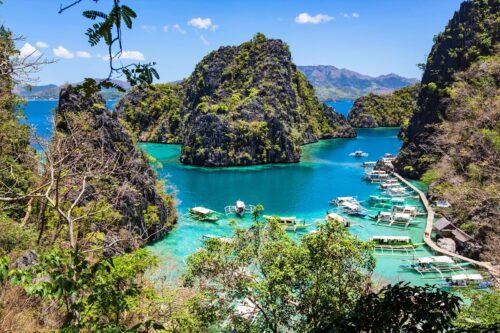 4D3N GO CORON 2023!
Coron is a beautiful island located in the Calamian Islands in the northern part of Palawan province in the Philippines. It is known for its crystal-clear waters, breathtaking scenery, and rich marine life, making it a popular destination for diving and snorkeling enthusiasts.
One of the main attractions in Coron is the WWII shipwrecks that can be found in the waters surrounding the island. These wrecks are a result of the naval battles that took place in the area during World War II. Today, they have become popular dive sites, attracting divers from all over the world who come to explore the sunken vessels and the marine life that now call them home.
Coron is also home to numerous beautiful beaches, lagoons, and other natural attractions. Kayangan Lake, for example, is a stunning emerald-colored lake that is one of the most photographed spots in Coron. Other popular attractions include Twin Lagoon, Siete Pecados Marine Park, and Malcapuya Island.
Apart from its natural beauty, Coron also offers visitors a range of other activities and experiences, including island-hopping tours, snorkeling, and scuba diving. Visitors can also enjoy local delicacies such as fresh seafood, tropical fruits, and coconut-based dishes.
Overall, Coron is a stunning and unforgettable destination that offers visitors a chance to experience the natural beauty and rich culture of the Philippines. Whether you're an adventure seeker or looking for a tranquil getaway, Coron is a destination that should not be missed.
For your inquiries and reservations:
+63 917 569 2364 | (632) 8 5198277 | 0910 244 1414
info@smartway-travel.com
*Prices subject to change without prior notice.
*Terms, conditions & health protocols apply.
Please call or email for any questions.